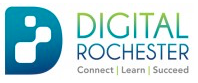 Much of the SI team will attend the Digital Rochester Transitions of Care program as president, Al Kinel, moderates a panel of community leaders. Discussions will center on improvement of handoffs between providers and organizations caring for patients.
Digital Rochester and speakers from the Rochester RHIO, Monroe County Medical Society, Rochester Regional Health, FLPPS, and Lifetime Care discuss the types of care transitions occurring in our region, the current challenges, and the types of technologies, analytics, and data exchange we're using, or will be using, to better facilitate the transitions.   The panel shares how their organizations are measuring and preventing re-admissions to the hospital through innovative programs, technological tools, and enhanced communication and collaboration.  The types of care transitions the panel will be analyzing are:
Hospital to Primary Care Provider/Specialist

Hospital to Post Acute Care

Hospital to Home Care (or to home with Primary Care Provider/Specialist oversight)

Post Acute Care to Home Care
Healthcare administrators and employees, and other community members who want to better understand how health care transitions occur in our community attend this event.
Panelists:
Chris Bell, Executive Director, Monroe County Medical Society
Nancy Horn, Vice President of Clinical Operations, Lifetime Care
Dr. Sahar Elezabi, Executive Medical Director, Finger Lakes PPS
Gloria Hitchcock, Director, Care Improvement Initiatives, Rochester RHIO
Mark Klyczek, Vice President of Long Term Care Division, Rochester Regional Health
Joey Rosario, Sr. Director, IT and Analytics, Finger Lakes PPS
Panel discussion moderated by:
Al Kinel, President, President, Strategic Interests
Tuesday, June 13, 2017 7:30am
Irondequoit Country Club — Rochester, NY